In recent years, wireless intercom market has exhibited exponential growth due to the ever-increasing need for online broadcast of concerts, church events, trade shows, etc. While the wireless intercom industry used to be dominated by well-established brands, new players like Hollyland are gaining the upper hand by providing consumers and professionals with reliable products at economical prices. The Hollyland Solidcom M1 is an exemplar of how new players are redefining the industry.
Inside the Box
*The Hollyland Solidcom M1 has 2 variants: the 8-beltpack package and the 4-beltpack package. In this article, we will be discussing the 8-beltpack package.
Designed for seamless team collaboration, the Solidcom M1 supports up to 8 members, providing each of them with the wireless beltpacks and professional wired single-ear headsets. Ideal for small to medium-sized events such as broadcasts, live streams, exhibitions, TV and films, the Solidcom M1 system is the best possible plug and play communication solution for you and your team.
| | |
| --- | --- |
| Accessory | Amount |
| Base Station | 1 |
| Beltpacks | 8 |
| Charging Base | 1 |
| High Gain Omnidirectional Antenna | 2 |
| LEMO Single-Ear Headset | 8 |
| POE Adapter | 1 |
| RJ45 to XLR Transferring Cable | 1 |
| USB Type-A to Type-C Transferring Cable | 1 |
| 4-Pin XLR Adapter | 1 |
| Battery for Beltpacks | 16 |
| 3/8 Installing Accessory | 1 |
| User Guide | 1 |
Base Station
The base station of the Solidcom M1 is the hub which all the beltpacks communicate to and from. The color LED display shows everything you will possibly need from beltpack connecting status, battery life, signal strength as well as current mode.
Simply hold the center button for a few seconds you will be able to enter the main menu of the base station. Here you can connect the base station to Solidcom app of Hollyland and manage the setup with it.
The Solidcom M1 supports cascade connection with other Hollyland wireless intercoms or non-Hollyland intercoms. If you already own an intercom system, the Solidcom M1 will be a good supplement for an enlarged communication range.
Beltpacks
The beltpacks are paired by factory default and are good to use out of the box. But if you want to regroup them you can long press the center button on the beltpack to enter the menu where you can pair the unit to the base station after connecting them with a USB cable.
The beltpack features Sidetone function which allows you to hear your own voice even with the headphone on so that you can adjust your voice volume if it's too loud.
On top of each beltpack, there are 2 antennas and a Talk button that engages the microphone. If you are not sure whether the mic is on or not there is also an LED light on the inner side of the microphone that tells you if you are on Talk mode or Muted mode. In addition, each beltpack is equipped with 2 batteries which provide a continuous runtime of 12 hours.
Headsets
The headsets of Hollyland Solidcom M1 are made with leather ear pads that gently wrap around your ear and create no pain even after wearing it for a long day. Single-ear designed, the headset allows you to isolate one ear to listen to what your team members are saying while keeping the other ear on the environment.
Charging Option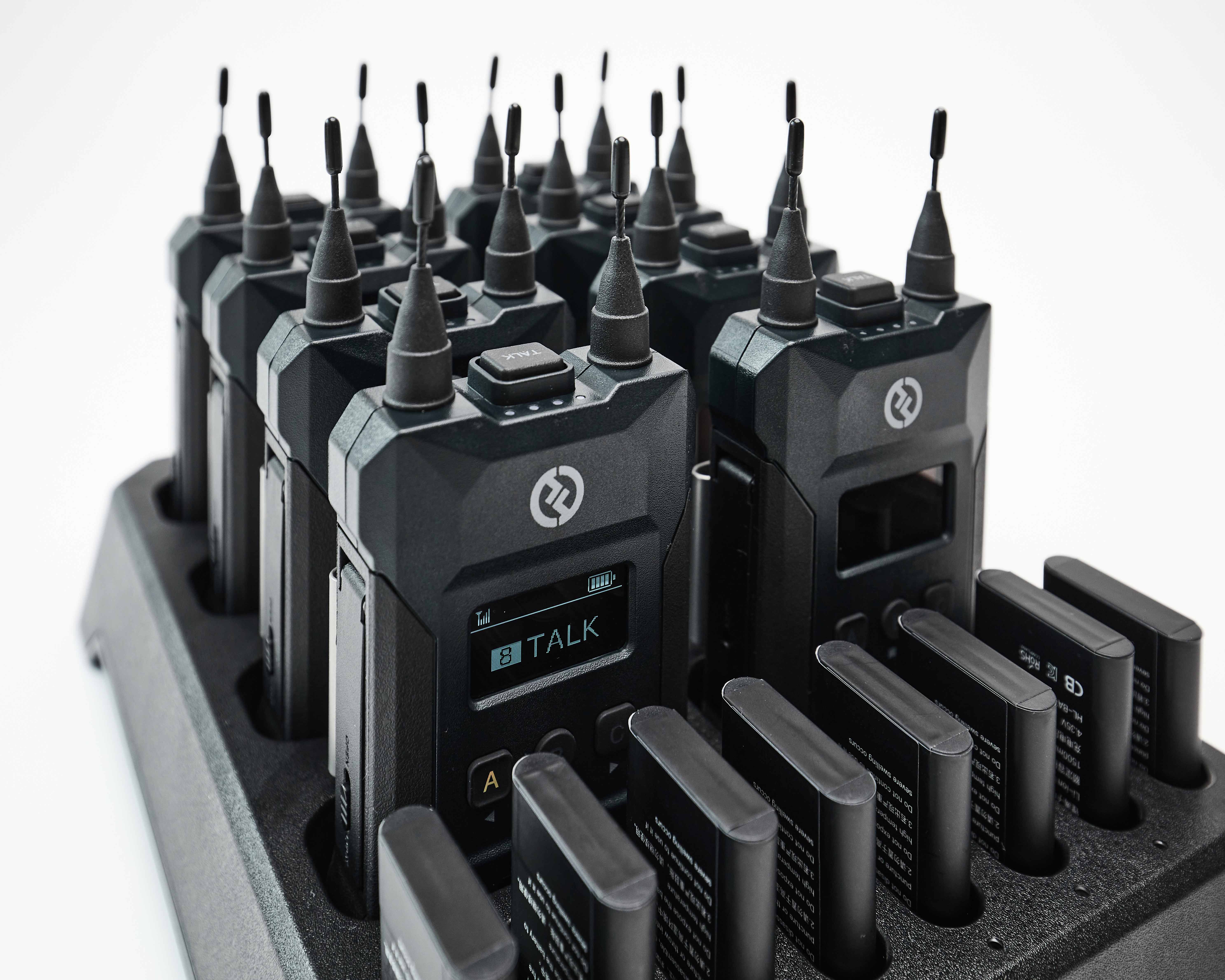 The base station can be charged via the POE power supply port or with 2 NP-F batteries. For the beltpacks, you can plug all eight of them straight in the charging station that is capable of charging 8 beltpacks and 8 batteries simultaneously.
The Hollyland Solidcom M1 full-duplex wireless intercom system combines plenty of powerful features with a user-friendly experience. It's built for enhanced team collaboration and coordination and would make a wonderful addition to any small to medium sized team's arsenal.