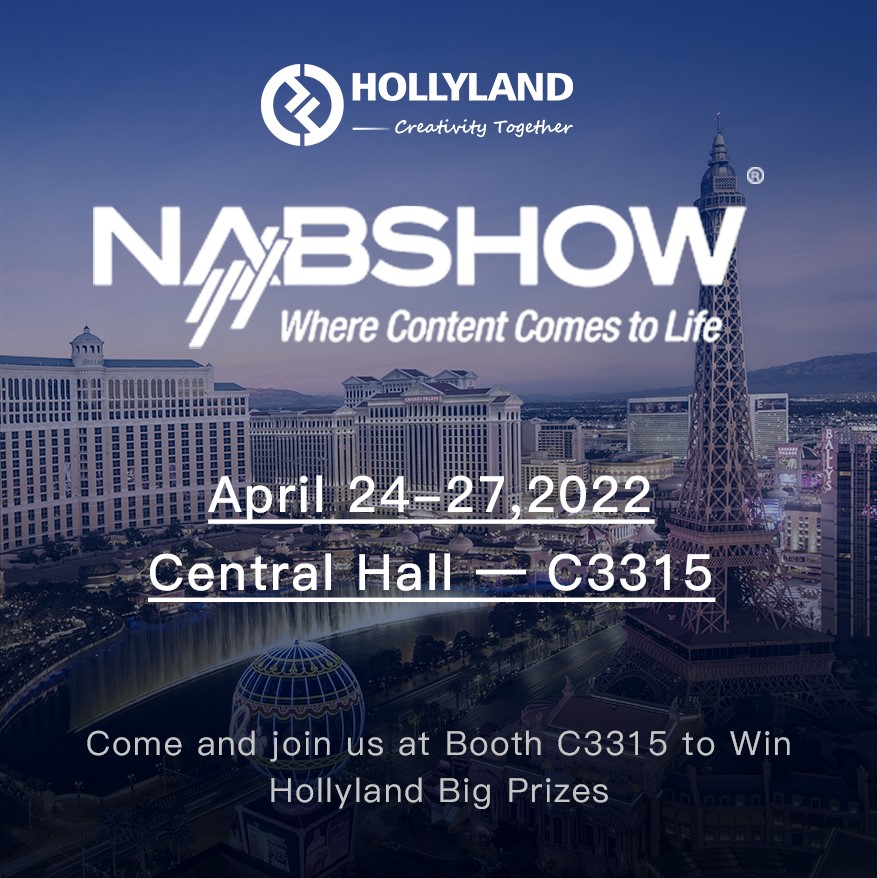 Shenzhen, China, 21st April, 2022 - Hollyland, the world's leading developer and provider of wireless transmission technologies, solutions, and products, will be present at the 2022 NAB Show from 24th to 26th April. Hollyland will be showcasing its latest innovation, Solidcom C1 full-duplex wireless intercom headset system, and full-line wireless solutions covering audio/video transmission and intercom systems at Booth No. C3315 in Central Hall, Las Vegas Convention Center.
(Illustration: The overall roadmap of the exhibition)
As one of the most prestigious tradeshows for people passionate about media, entertainment, and technology, the NAB Show opens a door for the world's most talented and celebrated directors, producers and creators to new connections and knowledge exchanges with transformative technologies within this industry.
Hollyland is happy to showcase its technological achievements with years of diligent technological endeavors to facilitate and foster communication and coordination for production teams.
(Illustration: Solidcom C1 full-duplex wireless intercom headset system and Syscom 421S wireless video & audio transmission system)
Highlight Products for the Show:
Hollyland Solidcom C1 full-duplex wireless intercom headset system, adopting the advanced DECT 6.0 technology, is Hollyland's first true wireless and self-contained headset communication solution with exceptional sound clarity. The system operates in the 1.9GHz band, providing a reliable transmission range up to 1,000ft (350m) radius (LOS).
Key Features of Solidcom C1:
l Enhanced Stability and Security with DECT 6.0;
l True-wireless Self-contained Headset for 2-way Communication Without Beltpacks;
l Wideband Clear Audio Quality for Precise Coordination;
l Customizable for Varying Team Size;
l Expandable Intercom Needs via a Hub that Cascading with NO Limit;
l Ready out of Box, and Easy to Use;
l Light-weight Headset Make it Comfortable to Wear All Day Long;
l Rechargeable & Replaceable Battery for Extended Working Time.
Hollyand Syscom 421S 1800ft wireless video & audio transmission system, a 4TXs to 1RX mode pioneered a multi-cam shooting experience with low cost and high efficiency. Supporting up to 1080p60 video signals via SDI and HDMI, this system offers an 1800' line-of-sight transmission range with 0.07 second latency.
Key Features of Syscom 421S:
l Up to 4 TX Synchronized Audio &Video Transmission;
l Supports Tally Lights for a Smooth Coordination;
l 0.07s Latency with up to 1,800ft Range;
l Intelligent Channel Scan for Stable Transmission;
l SDI+HDMI Inputs and Output for Varying Camera Shooting Needs;
l Expandable up to 4 Systems on one Site for Varieties of Production Applications.
Lucky Draws
As usual, to thank you for your continuous support for Hollyland, there will be lucky winners during the exhibition. Please find out more details down below:
Time:
April 24th to April 26th (1 draw/day)
Prizes:
1st prize: Solidcom C1+Hollyland souvenir
2nd prize: Mars 400S Pro+Hollyland souvenir
3rd prize: Lark 150+Hollyland souvenir
How to Participate:
For on-site visitors:
l Leave your Name Card in our on-site raffle box at our Booth No. C3315;
l Follow us at Facebook @HollylandTech or at Linkedin @Hollyland Technology
(Note: The above 2 conditions must be both met to participate in the draw)
For online fans:
If you are not able to participate on site or are not selected this time, you can still fill in the Google form in the pin post of Facebook @HollylandTech to participate in our ONLINE LUCKY DRAW to get the chance to gain a set of Solidcom C1!
Note: Hollyland reserves the right to interpret the Lucky Draw Event.
We cordially invite you to visit our Booth C3315 (Central Hall) and talk face-to-face with our executive team. We're looking forward to meeting you at 2022 NAB Show!