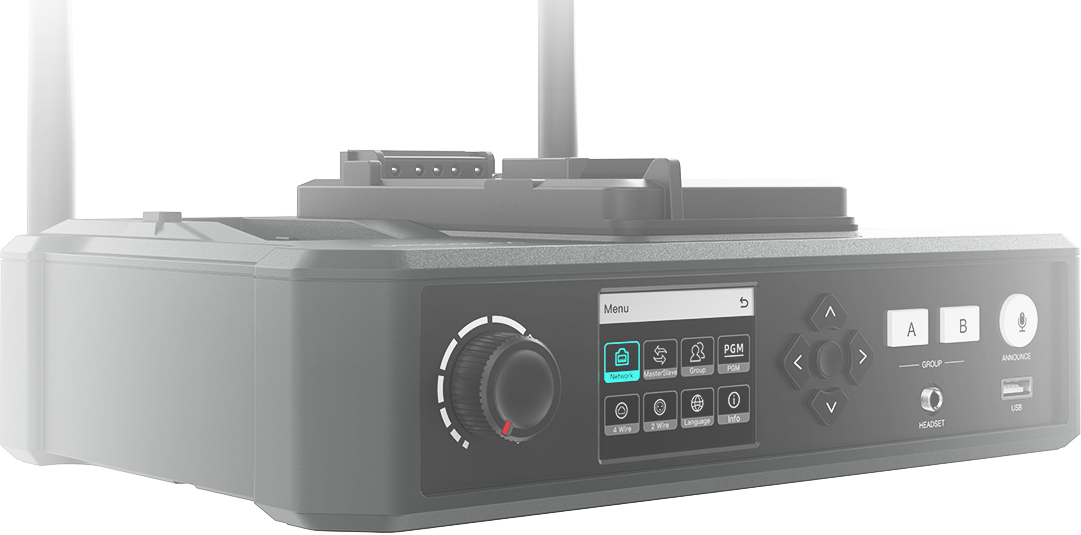 Keep Talking On-The-Go with AB Grouping
The HUB base can keep the team connected on the go as it is battery-powered, offering a 1,100ft(350m) transmission range and two communication channels for the team.
UAC for Direct Calls to Cloud Meetings
Seamlessly brings your remote and in-person teams together, fostering team interaction and creativity wherever you work.
The featured UAC (USB Audio Class) function enables the HUB to join in any cloud meeting anytime running on ZOOM, SKYPE, or meeting programs alike via Type-C connection to your personal computer.
Multiple Ways to Charge Up the HUB Base
NP-F batteries

V-Mount or G -Mount

DC power
The Solidcom C1 HUB base features three bays, allowing multiple battery power supplies from two NP-F batteries and/or one V-Mount or G-Mount (by your package choice) battery.
Note: The Solidcom C1 package does not include batteries for the HUB base.
Multiple Systems Cascade Connection
The Solidcom C1 HUB base can interconnect multiple systems to accommodate expanded communication needs. It can be cascaded with up to 3 systems via IP networks while offering 2/4-wire audio input-output interfaces. You can easily daisy-chain as many systems as needed on site to meet more complex real-life operational requirements.
Note: Keep at least 2m between the cascading devices.
An "ANNOUNCE" for Urgency
The HUB station is designed with a one-key "ANNOUNCE" function. By activating the feature, the system will mute all headsets, allowing the whole crew to hear the direct instructions or commands from the HUB base in case of an emergency.