1. Change History
Date

Version

Description

Download

Remarks

2022-8-5

V2.0.2.8

This is the initial version.

Google Drive:

https://drive.google.com/drive/folders/19MPMIRyZ

K4M5fByZxugzX05kdtZabHJD?usp=sharing




2022-10-14

V2.1.0.3

1. Added the video recording/

playback function.

2. Optimized the startup time.

3. Fixed other known issues.

Google Drive:

https://drive.google.com/drive/folders/16QCdbJUdeUqRLzE9sGtD3gL6rrr2yJHo?usp=sharing

The upgrade guide applies only to the H210 hardware version. Early demo devices with a hardware version of H130 or H200 cannot be upgraded.
2. What Is New in V2.1.0.3
Video recording and playback

The Mars M1 supports video recording and playback for up to three minutes of record time. Please note that the recorded video cannot be exported and will be deleted when the device is turned off or a new recording is started.

Optimized auxiliary functions
1) A 1.6 option is added to the anamorphic de-squeeze function.
2) 180° horizontal and vertical mirroring are supported.
Optimized startup time

Before the upgrade, you need to press and hold the power button for about three seconds to turn ON the device. After the upgrade, you can simply press the power button to turn ON the device.

Pairing-canceling option

You can cancel pairing by tapping the X icon in the dialog box displayed after you tap Pair.
3. Upgrade Operation
3.1 Precautions
1) Due to upgrade risks, we do not recommend upgrading the device when using it at important events.
2) A fully charged battery is recommended during the upgrade.
3) Do not unplug the USB flash drive from the device during the upgrade; otherwise, the upgrade may fail.
4) Contact Hollyland technical support at support@hollyland-tech.com if the device does not properly operate after the upgrade.
3.2 Procedure
1) Format the USB flash drive to the FAT32 format, and then place the upgrade file in the USB flash drive root directory.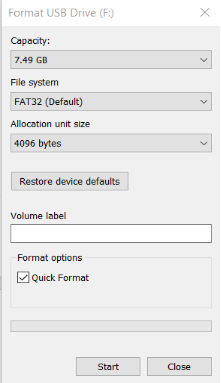 2) Insert the USB flash drive into the Mars M1 through its USB-C port. The upgrade process will start automatically. Please wait until the upgrade is complete.

3.3 Notes
1) The USB flash drive must be formatted into FAT32 before the upgrade.
2) The upgrade can be performed using a computer running Windows 10/11 or macOS.
3) The memory of the USB flash drive should range from 1 GB to 32 GB. The FAT32 file format is not supported on USB flash drives that have a memory of more than 32 GB.
4) The upgrade file needs to be placed in the USB flash drive root directory, instead of any other directory.
5) After the upgrade, verify whether the device is of the latest firmware version.